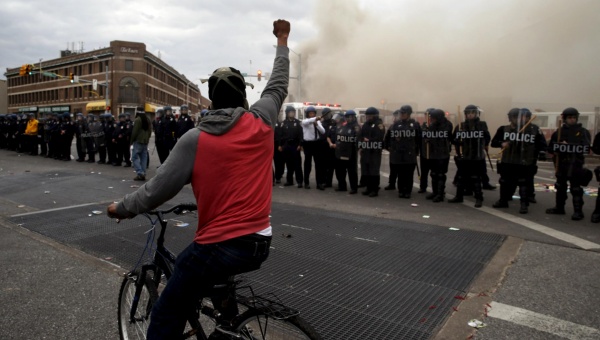 A protester on a bicycle thrusts his fist in the air next to a line of police, in front of a burning CVS drug store, during clashes in Baltimore, Maryland April 27, 2015. This content was originally published by teleSUR at the following address: http:/, Reuters
By Bill Fletcher Jr
TeleSUR via Portside
April 30, 2015 – A broad united front for justice and power, in addition to protesting atrocities, is guided by a sense of hope and a vision of a new day.
It is not enough for us on the Left to comment favorably on the right of oppressed to rebel, to validate the rage that took a very destructive form. Rather, we must support those that engaged in efforts to redirect the rage to preserve their communities as part of a larger movement for justice for Freddie Gray.
A protester on a bicycle thrusts his fist in the air next to a line of police, in front of a burning CVS drug store, during clashes in Baltimore, Maryland April 27, 2015. This content was originally published by teleSUR at the following address: http:/, Reuters,
There was little about the Baltimore uprising following the funeral of the murdered Freddie Gray that surprised me. Tensions had been building ever since word broke that he had died after his spine was severed while in police custody. It was not just that this atrocity had taken place under the most suspicious of circumstances, but that the city government appeared nothing short of anemic in its response.
It did not surprise me that Black youth took to the streets in rage or that there were opportunists within the mobs that took advantage of the strife in order to carry out thefts. It was a riot or uprising. It was not an insurrection and it had neither an ideology nor coherent leadership.
What I found most noteworthy in recent events is something that received limited coverage: the fact that there were organized groupings of men and women who were actively working to redirect the anger of the youth away from the destruction of their neighborhoods. The Nation of Islam, for instance, deployed its members to walk the streets, speak with the youth, and attempt to dissuade them from violence. It was not alone. There were other groups, including gangs as well as ad hoc community groups that set out to both protest the police killing of Freddie Gray but also to try to convince the young rebels that there needed to be a different path. (Continued)