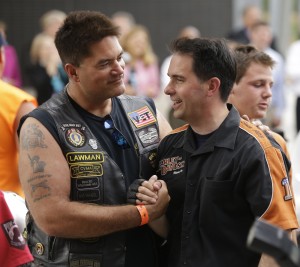 Enter Scott Walker, Stage Right
Thomas B. Edsall
Progressive America Rising via New York Times
April 29, 2015 – As Scott Walker has transformed himself from a three-time statewide winner in blue-leaning Wisconsin to a hard-right Republican primary candidate, he has jumped to the head of the pack in Iowa and New Hampshire.
Walker's re-creation of his political identity is a test of whether a Republican presidential candidate can win on the basis of decisive margins among whites (while getting crushed among minority voters).
Walker hopes to stand apart from Jeb Bush, a former Florida governor, and Marco Rubio, a Florida senator, who are both taking a more centrist approach. Walker intends to stake out the right side of the Republican spectrum and trump competitors for this niche like Senator Ted Cruz of Texas.
Even as he shifts to the right, however, Walker, a preternaturally careful candidate, is avoiding any explicit suggestion that he is the champion of disaffected white voters. Still, key policy positions — particularly his changing stance on immigration and his attacks on public sector unions — reveal a thoughtfully directed appeal. In 2011, Walker successfully sponsored legislation repealing most collective bargaining rights for government employees. Walker's anti-union initiative has made him a folk hero to conservatives concerned about what they see as the expanding power of government.
In a recent paper, "The Whiteness of Wisconsin's Wages," Dylan Bennett, a professor of political science at the University of Wisconsin, and Hannah Walker, a doctoral candidate in political science at the University of Washington, argue that "Governor Walker and his allies activated the racial animus of white workers."
Bennett and Walker contend that gutting the power of public sector unions serves as a vehicle to disempower African-American workers, "for whom the public sector is the single most important source of employment." (Continued)
According the authors, the purpose of the attacks on public employees is to suggest that "those who receive from the taxpayers are dependent and morally corrupt. The link to blackness is silent and efficient."
The authors cite a number of letters to the editor published in newspapers during the controversy over Walker's attack on Wisconsin public employee unions, including this one about striking city teachers:
    I am sick and tired of hearing how hard teachers work. Everybody I know works hard and they do it 12 months a year, have less benefits, pay for their benefits, do work for their job at home, work second jobs to make ends meet, have experienced pay cuts, layoffs at their companies and earn the same or less than a teacher when you figure the 12-month work schedule versus a teacher's nine.
The racial makeup of public sector employees provides a key subtext to Walker's political strategy. According to the Department of Labor,
    Black workers are more likely to be employed in the public sector than are either their white or Hispanic counterparts. In 2011, nearly 20 percent of employed Blacks worked for state, local, or federal government compared to 14.2 percent of Whites.
An April 2012 Marquette Law School poll of Wisconsin voters found that among whites, 42 percent held unfavorable views of public employee unions, while only 6 percent of blacks held similarly hostile views. Along similar lines, 76.8 percent of whites supported requirements that government workers contribute more to their pensions and health coverage, compared with 43.2 percent among blacks,
On the topic of immigration, Walker has not only moved from left to right, he has adopted an assertive American nationalism.
The No. 1 priority in shaping immigration policy, according to Walker, should be "the American worker and American wages." Speaking to the Iowa Faith and Freedom Coalition Summit on April 25, Walker declared: "We need to make sure we put American workers first in everything we do, from immigration to tax policy to regulatory reform."
Walker's right-populist themes now extend beyond his initial claim to represent taxpayers resistant to paying government employees high wages. His proposed Wisconsin budget for 2015-16 takes on both liberal academic elites and the government-dependent poor.
Walker calls for a $300 million cut in state support for the University of Wisconsin. His budget also requires drug testing of welfare, food stamp and unemployment recipients.
Seeking insight into Walker's tactics, I emailed Sean Trende, a senior elections analyst for RealClearPolitics, who has argued that a political strategy calling for boosting white turnout — as opposed to trying to increase minority support — remains a viable Republican option, despite the growing number of minority voters. I wrote to Trende as follows: "My impression is that Scott Walker is developing a campaign based on the premise that an expanded white electorate can be the basis of victory in 2016. Your thoughts?"
Trende replied:
    To the extent that his comments and commitments in the primary 'lock him in' for the general election, I think it's safe to say that your intuition here is correct.It makes the most sense for Walker to run with the strategy out of all the major contenders: He doesn't have the geographic or demographic connections of a Rubio or a Bush (or a Cruz).His base is in the Upper Midwest, which is where a Republican has to win if he is going to lose places like Virginia and Nevada, and his working-class background might resonate more with these voters than some of the other candidates.
Ruy Teixeira, co-author with John Judis of the seminal book "The Emerging Democratic Majority," responded to a similar query. Teixeira's answer:
    Walker seems unconcerned that his approach to minority voters would likely maximize the probability these voters once again vote 80 percent Democratic.
Teixeira noted that Mitt Romney lost by four points
    even while getting 59 percent of the white vote. That means Walker would have to do substantially better than Romney among white voters to have a chance to win — perhaps hitting Reagan's 1984 levels.

In 1984, Reagan won 64 percent of the white vote.
Continue reading the main story

Walker appears to be calculating that his recent shift on immigration is another means of boosting white support.

Just two years ago, Walker favored liberal immigration legislation. He told the Wausau Daily Herald, in a videotaped interview,

    If people want to come here and work hard in America, I don't care whether they come from Mexico or Ireland or Germany or South Africa or anywhere else, I want 'em here.
At that time, in response to a question from the Herald's editorial board ("Can you envision a world where, with the right penalties and waiting periods and meet the requirements, where those people could get citizenship?"), Walker replied: "Sure. Yeah. I mean, I think it makes sense."
On Feb. 16, however, Walker tried to back off from that pro-immigration stance, claiming in an interview with Brent Baier of Fox News that "the Wausau newspaper erroneously quoted me on that."
Two weeks later, Walker acknowledged that he had indeed shifted from a liberal to a hard-line stance on immigration: "My view has changed. I'm flat out saying it," he told Chris Wallace of Fox News on March 1.
The core of support for Walker's unannounced presidential bid comes from the most conservative segment of the Republican electorate. A Feb. 25 Quinnipiac University poll of likely Republican caucus-goers in Iowa found that Walker had his strongest support – topping all competitors – among voters who described themselves as very conservative, as Tea Party sympathizers and as white, born-again evangelicals. These are the voting blocs most opposed to liberal immigration reform.
Walker took the lead in polls of Iowa voters after he spoke on Jan. 24 at the Iowa Freedom Summit, where he declared to strong applause: "Since I've been governor, we passed pro-life legislation and defunded Planned Parenthood."
Walker's shift on social and cultural issues has been more subtle than his attack on public employee unions or his altered stance on immigration.
Before winning re-election in 2014, Walker brushed aside questions about his positions on social issues, contending that voters cared more about the economy. Asked in 2013 about same-sex marriage, he replied: "I don't talk about it at all. I don't talk about anything but fiscal and economic issues in the state."
Walker's strategy to play down his views on social issues was put on display early in October. Emily's List, the pro-Democratic abortion rights group, ran a television ad that declared "Scott Walker wants to make all abortions illegal, even in cases of rape and incest."
Walker, determined to avoid characterization as an abortion hard-liner, immediately countered with an ad that implied that he actually considered abortion to be a matter to be decided by a woman and her doctor:
    Hi, I'm Scott Walker. I'm pro-life. But there's no doubt in my mind the decision of whether or not to end a pregnancy is an agonizing one. That's why I support legislation to increase safety and to provide more information for a woman considering her options. The bill leaves the final decision to a woman and her doctor. Now, reasonable people can disagree on this issue. Our priority is to protect the health and safety of all Wisconsin citizens.
This confrontation between Walker and Emily's List took place on the public airways. Out of public view, however, Walker wrote a letter dated Sept. 5, to Wisconsin Family Action, an anti-abortion organization, pledging his fealty to the conservative social agenda, and noting that in his first term:
"We prohibited abortions from being covered by Wisconsin health plans in a health insurance exchange," he told the group, adding "We also cut off state funding for abortion providers. He also pointed out that "I am defending the constitutional amendment that defines marriage between one man and one woman" and that "I support marriage between one man and one woman."
The letter became public on Oct. 21, two weeks before the election, when anti-abortion Wisconsin Family Action gave Walker its endorsement.
Now, in his new persona, Walker has declared his opposition not only to same-sex marriage, but to abortion – including in the case of pregnancies resulting from rape or incest. In a closed meeting in January with Iowa Republicans —reported on Feb. 23 by The New York Times — Walker declared his support for a "personhood amendment," which defines life as beginning at conception, which would, in effect, prohibit all abortions and some methods of birth control.
Walker's strategy is paying off. In Iowa he leads the field at 17.3 percent, compared with Bush, second with 12.8 percent. Cruz, perhaps the strongest competitor with Walker for the most conservative primary voters, is far behind at 4.8 percent
In New Hampshire, Walker, has an equally strong lead, 19.5 percent to Bush's 15 percent. Cruz is at 10.5 percent. Of the three early states, Bush leads only in South Carolina, at 16 percent. Walker is just one point behind.
Polls at this stage are not reliable, but they suggest that Walker could be a credible candidate for the Republican nomination. The general election is a different matter. As Teixeira pointed out, Romney's 59 percent of the white vote was inadequate, and topping that is a tall order.
One factor working in Walker's favor is that from 2008 to 2014, white partisan allegiance shifted from rough parity between the parties to a substantial 9- or 10-point advantage for the Republican Party, according to both the Pew Research Center and Gallup. But these trends can be misleading: The Republican white advantage had reached these levels by 2012 and Obama still won, hands down.
If Walker continues to hold the lead in the early primary states, his candidacy will challenge the centrist predilections of the Republican establishment.
Party leaders, including Reince Priebus, chairman of the Republican National Committee; Karl Rove; and many of the most loyal business supporters of the party have explicitly rejected the so called white strategy as a threat to the party's future because it will drive African-Americans and Hispanics deeper into Democratic hands.
Walker has not tapped into the anti-corporate strain of populism. He is clearly seeking the support of such corporate advocates as the billionaire Koch brothers.
Insofar as Walker's campaign sustains its early momentum, the party establishment will put increasing pressure on him to constrain any inclination he might have to threaten a powerful business community determined to maintain favorable tax, trade and regulatory policies.
Conservative populism, however, doesn't just tap into anger at minorities and the so-called undeserving poor; it also taps into hostility toward corporate America, which has, for a sustained period of time, kept wages low while pocketing record profits.