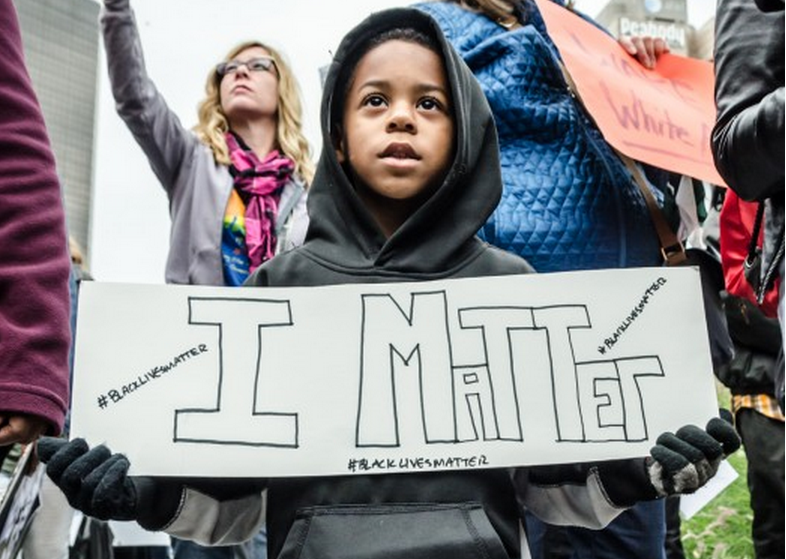 (Sarah Jane Rhee, loveandstrugglephotos.com)
Whether Darren Wilson Is Indicted or Not, the Entire System Is Guilty
An indictment of the Ferguson police officer who killed Michael Brown would not prove that black lives matter in America.
By Mariame Kaba
In These Times
Nov. 17, 2014 – I am not against indicting killer cops. I just know that indictments won't and can't end oppressive policing which is rooted in anti-blackness, social control and containment.
Everyone I know is on edge. Will a grand jury in St. Louis indict or not? How will residents of Ferguson react if (as many expect) the grand jury advises against an indictment of Darren Wilson, the officer who killed Mike Brown? What will be the response of the St. Louis and Ferguson police? Photos of MRAPs and boarded up businesses proliferate on social media. Articles suggest that St. Louis police have been recently stockpiling riot gear and military grade weapons. It's war, but that's not new. Everyone is holding their breath.
On the other hand, what's next if the grand jury does decide that Wilson should stand trial? So much psychic, emotional, and spiritual energy is focused on a successful indictment. I imagine the sighs of relief. I anticipate the countless social media posts crying out "justice!" I imagine that many exhausted protesters will decide that their work is done. I fear a return to our seductive slumber and to complacency.
I'm not invested in indicting Darren Wilson though I understand its (symbolic) import to many people, most especially Mike Brown's family and friends. Vincent Warren of the Center on Constitutional Rights speaks for many, I think, when he writes:
Without accountability, there can be no rule of law. If Wilson is not indicted, or is under-indicted, the clear message is that it is open season on people of color, that St. Louis has declared that Darren Wilson is not a criminal but that the people who live under the thumbs of the Darren Wilsons of this country are. It would say to the cry that "Black lives matter" that, no, in fact, they do not.
I understand the sentiment that Warren expresses. Yet I don't believe that an indictment of Wilson would be evidence that black lives do in fact matter to anyone other than black people.
Continue reading All CCDS Members & Friends: Join Solidarity with Ferguson Actions