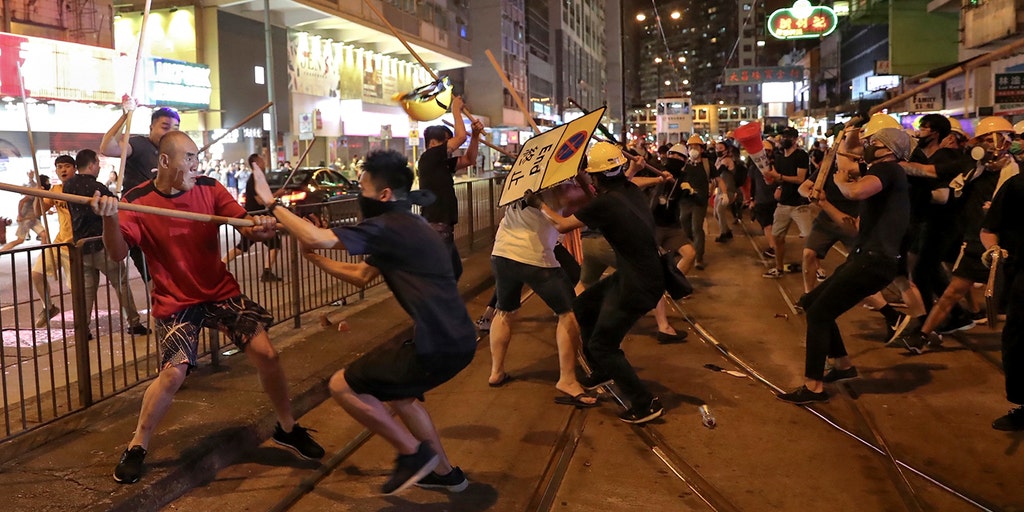 China warns Hong Kong protesters not to 'play with fire'

Notes on Understanding the Crisis in Hong Kong and role of the Left in the US
By Duncan McFarland
LeftLinks
o Hong Kong is capitalist; the People's Republic of China is a country self-identified as in the primary stage of socialism with a Marxist-Leninist political system.  This is a major political contradiction and Hong Kong people are divided in their feelings about being part of China.
o Hong Kong Island was seized and colonized by Great Britain in 1842 as a result of the Opium War, Kowloon peninsula taken by the British later, and the adjacent New Territories leased for 100 years in 1897.  In 1997 sovereignty reverted back to China according to a joint agreement.  The handover stipulated a 50-year period in which Hong Kong would have a high degree of autonomy while China would control foreign relations and defense.  This agreement did not, however, resolve the political contradiction.  Having the character of a pragmatic, short term fix, the agreement is ambiguous as to what will happen to Hong Kong in 2047 when the arrangement ends.
o Hong Kong, long a British colony, has never had democracy.  Its political system is not fully democratic according to bourgeois standards, because the legislature and chief executive are not elected by one-person, one-vote.  Neither is there full democracy according to the Chinese socialist system, because there are no people's congresses in civil society nor democratic centralism in a ruling communist party.  The hybrid system is a pragmatic patchwork; it is understandable that many people in Hong Kong want developed democratic institutions and that young people want more say in decision-making.
o The political forces and trends in Hong Kong are very complicated.  The protest movement consists of those seeking democratic reforms within the context of China's policy of one-country, two systems; second, people who want an independent (capitalist) Hong Kong; third, a small group of anarchists and "thugs" initiating confrontation.  There are also counter-revolutionary "protesters" working with US imperialist agencies such as the National Endowment for Democracy, which for many years in Hong Kong has been actively promoting anti-communism and a color revolution in Beijing.
There are also many people in Hong Kong who support China for different reasons: patriotic feelings for China, commercial ties, those who sympathize with socialism.  More recent immigrants have strong family connections to China, rural villagers near the border vote pro- Beijing and the Hong Kong Federation of Trade Unions supports the government.  In addition to people of Hong Kong, transnational capitalists have considerable influence in different ways. China's response can only be understood in the context of US imperialist strategy, which during the Trump administration has explicitly targeted China (and Russia) as principal adversaries.  US capitalism-imperialism wants regime change and friendly governments in those two countries.  The pivot to Asia initiated by President Obama and Hillary Clinton has surrounded China with military bases and alliances, including a major base in South Korea and support for revived Japanese militarism. Trump has initiated the trade war to pressure the Chinese economy.
China regards these policies as an extension of the colonial and imperialist efforts since the Opium War to break off parts of the country to weaken and subjugate it.
o Here is my take on the Five Demands currently put forward by the protest movement.
— First, the demand for direct elections for the legislature and chief executive will never be granted because China will not accept the possibility of the election of a pro-capitalist government committed to independence.  However, the Hong Kong government could engage in dialogue to expand democracy and engage young people short of conceding sovereignty.
— Another demand is for the resignation of Hong Kong chief executive Carrie Lam.  I don't have an evaluation of how she is doing her job; she has kept a low profile and does not want to call in the military to restore order.  It's possible she could resign.
— A third demand is for an investigation into police brutality.  There could be an investigation into violence, including both police tactics and confrontations initiated by the protesters. — The protesters demand that the government not use the word "riot" to describe the protests.  This is reasonable because the protests are a mixture of peaceful actions and confrontations and cannot simply be described as a riot.
— Another demand is to permanently withdraw the extradition bill, which has been shelved for the time being.  This seems unreasonable to me because almost every country has extradition laws.  A better plan would be to propose a further revision of the bill.  The original extradition issue has been lost; a young woman in Taiwan was murdered and the alleged perpetrator fled to Hong Kong and is now arrested and in a Hong Kong jail.  Taiwan wants the person sent back to stand trial; the original extradition law was an attempt to fulfill this request.  Protesters oppose the bill because it could be used in the future to extradite people in Hong Kong to China; they say this could lead to political repression.  It could also be used to extradite people to China who flee to Hong Kong to escape the major anti-corruption campaign.
— Meanwhile, the government has demanded foreign governments (i.e. USA) cease interference.  CIA etc. involvement in the protest movement could also be investigated. In general, my view is that the Hong Kong government could be more flexible on initiating dialogue and compromise — they do hold state power.  However, it is understandable that the Hong Kong and Chinese governments regard sovereignty as non-negotiable; Hong Kong may have autonomy but not independence.
What is the role of the US Left?
— The US media has mostly an anti-China bias, petitions and rallies supporting the Hong Kong government are barely mentioned.  The Left should strive to understand all sides of the story for a balanced perspective.
— The people of Hong Kong and China are the ones to resolve the problems and issues.
— The role of the US Left is to call for an end to US militarism and intervention in all forms.  We want a policy of peace and friendly relations with China, not tension and conflict.  The US should cooperate with China on climate change and other issues.  The US should bring the troops home, make deep cuts in the military budget and increase support for social programs. Cease using Hong Kong as a base promoting a 'color revolution' and regime change.
— It is urgently hoped that matters will be resolved through peaceful dialogue and not violence.
The author wishes to thank the Massachusetts Committees of Correspondence for Democracy and Socialism for its input; he is also the coordinator of the China Study Group at the Center for Marxist Education in Cambridge.