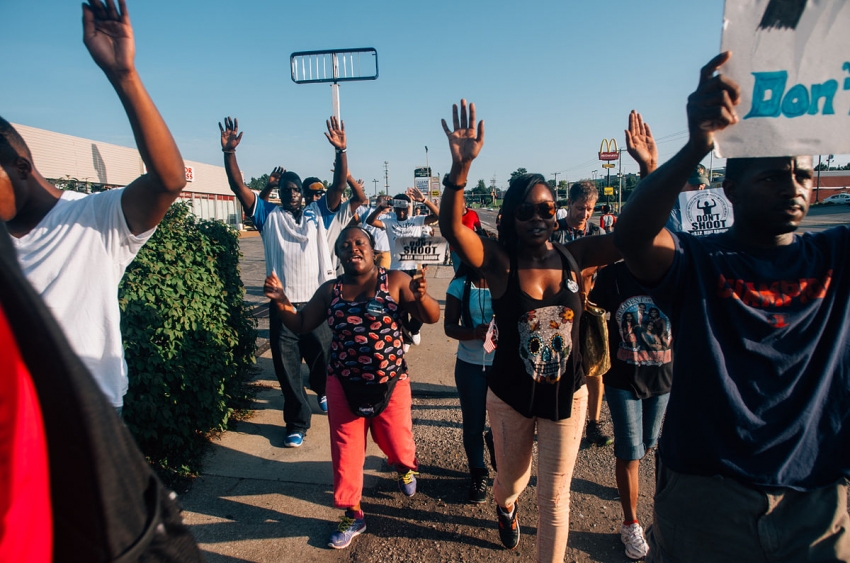 Protesters march through the streets of Ferguson. (Jamelle Bouie / Wikimedia Commons)
The U.S. has a long history of allowing police to walk free after vicious racist violence.
BY Flint Taylor
In These Times
Nov 24, 2014 – The pre-ordained failure of a biased local prosecutor to obtain an indictment against Darren Wilson should not surprise us. But the movement for justice for Michael Brown has brought widespread attention to the nationwide problem of systemic and racist police violence and highlighted the movement that has come together to battle against it.
The Ferguson grand jury's decision not to indict Ferguson police officer Darren Wilson for the killing of African-American teenager Michael Brown is heartless but unsurprising. But it is important to place the case in context with the history of police violence investigations and prosecutions in high profile cases—and the systemic and racist police brutality that continues to plague the nation. In doing so, there are lessons for the movement for justice in the Michael Brown case, as well as for those who are engaged in the broader struggle against law enforcement violence.
What follows, then, is a brief history of similar high profile cases where public outrage compelled the justice system to confront acts of racially motivated police violence—with, to say the least, less than satisfactory results.
Chicago
Over the past 45 years, Chicago has been a prime example of official indifference and cover-up when it comes to prosecuting the police for wanton brutality and torture.
On December 4, 1969, Black Panther leaders Fred Hampton and Mark Clark were slain in a police raid that implicated the Cook County State's Attorney and the FBI's Cointelpro program. A public outcry led to a Federal Civil Rights investigation. Despite finding that the raiding police fired more than 90 shots to one by the Panthers, the Grand Jury in 1970 did not indict, but rather issued a report that equally blamed the police perpetrators and the Panther victims.
Outrage at this decision led to the appointment of a Special Prosecutor who, in the face of extreme official resistance, obtained an indictment against the police and the State's Attorneys who planned and executed the raid—not for murder and attempted murder, but rather for obstruction of justice.
The case came to trial in front of a politically connected judge who dismissed the case without even requiring that the charged officials put on a defense. Again, the outrage, particularly in the African-American community was so extreme that the chief prosecutor, Edward V. Hanrahan, was voted out of office a week after the verdict was rendered in 1972.
Continue reading "Darren Wilson Wasn't the First: A Short History of Killer Cops Let Off the Hook"