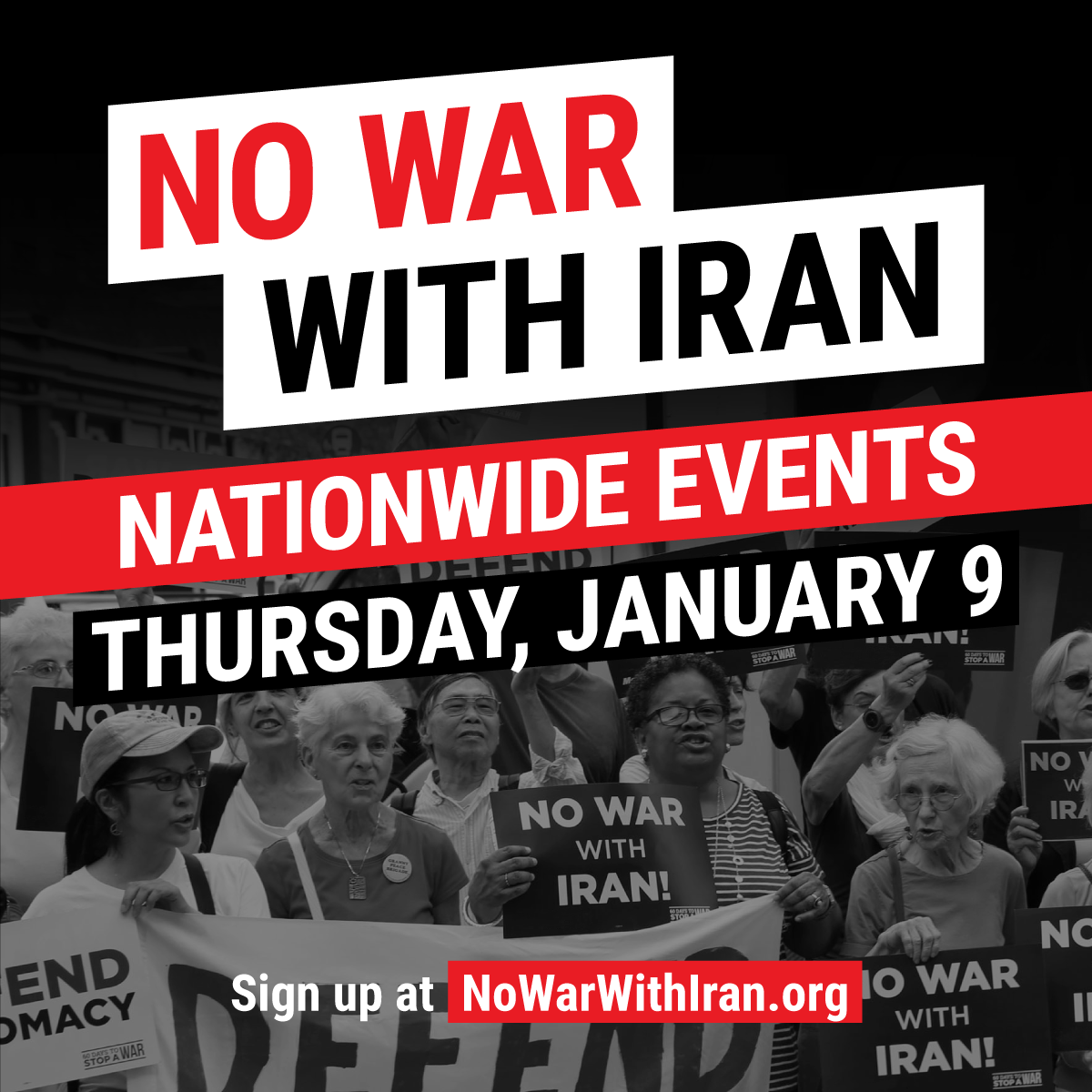 Dear CCDS members and friends
Trump's assassination of Iran's military commander Qassem Soleimani has escalated with the news that missiles have been launched on U.S. bases in Iraq. We are at a "grave and serious moment" in the words of Rep. Barbara Lee.
Trump's crazed plot to distract the public's attention from his impeachment and pending trial in the Senate is putting U.S. troops in harm's way. If the escalation continues, the safety of the entire world is at stake with the use of nuclear weapons an ever-present danger. We must do all we can to stop this madness.
CCDS is urging turn-out for protests on Thursday, January 9th. See below a message from MoveOn.org. If your area is not holding a protest, work to organize one. All hands on deck.
On Wednesday, January 8th at 8 PM ET, a national strategy call will take place organized by MoveOn, Indivisible and others. Join the call if at all possible.
CCDS National Executive Committee
**************
Dear MoveOn member,
Just as we were about to hit send on this email about nationwide anti-war protests Thursday, alarming news broke that Iran has launched an attack on the American al-Asad air base in Iraq in response to Donald Trump's reckless, illegal provocations. News is continuing to develop, but it's already clear that the following email has become even more important.
Assassinations don't make us safer. Tonight's attack is clear evidence of that. And that is why on Thursday, we will join together for a day of action across the country to protest and say #NoWarWithIran.
Trump's unhinged foreign policy has needlessly endangered the lives of U.S. troops and Iraqi, Iranian, and countless other civilians.
We will not be led into another illegal war.
No War With Iran Nationwide Events
Join us on Thursday, January 9 for a #NoWarWithIran demonstration near you and make the anti-war majority in this country visible.
Don't see an event near you? Sign up to host one.
People in the United States and across the globe are tired of war, from the military families who have seen multiple generations in the same conflicts, to the Iranian, Iraqi and Afghani families in the United States who worry for their loved ones back home.
We've learned our lessons from Iraq and Afghanistan and Yemen and global endless war. We will not be led into another costly, unnecessary war of choice. We will not allow our neighbors to be targeted by law enforcement. We will not be divided.
On Thursday, January 9, join MoveOn, Indivisible, Win Without War, the National Iranian American Council and About Face: Veterans Against The War to say #NoWarWithIran and oppose Trump's war—and spread the word!
Already, we've seen Trump's actions unleash xenophobia, with Iranian-Americans detained at the border in Washington state and asked about their political allegiance. That's not the country we want to build in 2020. And tonight we've seen a dangerous response to these actions.
Where Trump acts with ignorance, fear, war, and moral weakness, we will show up with diplomacy and political courage. We are the majority, we stand united, and we oppose Trump's war with Iran.
Thanks for all you do.
–Kate, Eric, Reggie, Jayne, and the rest of the team
P.S. Also, join us on Wednesday January 8th for a national strategy call at 8 p.m. ET/5 p.m. PT to hear from Senator Elizabeth Warren, Representative Barbara Lee, foreign policy experts, MoveOn leaders, and more to learn how we can take action together to prevent another endless war.
P.P.S. And say you'll be there Thursday to make the anti-war majority in this country visible!
Want to support our work? The MoveOn community will work every moment, day by day and year by year, to resist Trump's agenda, contain the damage, defeat hate with love, and begin the process of swinging the nation's pendulum back toward sanity, decency, and the kind of future that we must never give up on. And to do it we need your support, now more than ever. Will you stand with MoveOn?
Click here to chip in $3, or whatever you can afford.
Contributions to MoveOn Civic Action are not tax-deductible for income tax purposes. You're receiving this email because you took action with MoveOn. This email was sent to Rafael Pizarro on January 8, 2020.